CHEVROLET COMPLETE CARE
Chevrolet Complete Care is our personal commitment to you, your car and your safety when out on the road. The Complete Care program combines a 5 years/100,000km warranty, with regular, scheduled maintenance, Mobile Service, 24/7 Roadside Assistance and for peace of mind, wherever you are.
With Complete Care, Chevrolet helps keep your car running smoothly and is always there to support you when you need it. You can count on our helpful Customer Care Advisors to answer your questions, as well as trained and certified technicians who know your car best. We use genuine Chevrolet parts so your vehicle and safety are never compromised. Plus, our pricing is always fair and transparent for any work we perform. Whatever you need, whenever you need it, we'll always do our best to meet your needs and exceed your expectations.
WARRANTY
With a 5 years/100,000km bumper-to-bumper warranty, Chevrolet Complete Care gives you peace of mind right from the start. This factory-backed warranty comes with the assurance of trained service technicians, quality workmanship and genuine Chevrolet parts.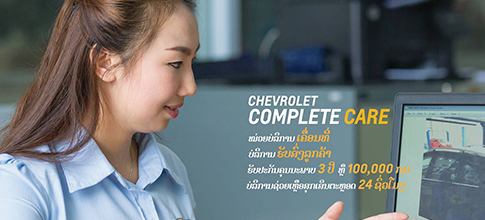 24/7 ROADSIDE ASSISTANCE
We would never leave you stranded. Chevrolet is proud to offer the response, security and convenience of our 24-Hour Roadside Assistance Program. The program provides you with emergency towing to a Chevrolet Dealer, so you are never alone while on the road. Our Roadside Assistance program also includes: lockout service (keys locked inside vehicle), flat tire changes (spare installed), fuel delivery and jump-starts (at home or on the road). Our Roadside Assistance operators are available 24 hours a day, 7 days a week to ensure you get help when you need it.
(Roadside Assistance Call No : 09 7838 CHEVY)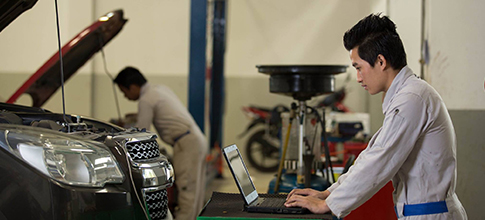 CHEVROLET MOBILE SERVICE
Chevrolet Mobile service - another level of providing comprehensive and complete customer service. Chevrolet Mobile Service teams are equipped with up-to-date equipment, tools and professional technicians who can support in the case of an emergency or even preliminary service for your engine. Another way of Chevrolet showing you that we care, and providing you with comprehensive service even when you're caught up with everyday life and don't have the time to visit the dealership. Chevrolet Mobile service can perform several basic services such as engine oil changes, other lubricant fluid changes, battery and spark plug care, regular service maintenance, change of belts, oil filter and air filter. Allow us to come to you.
CHEVROLET SERVICE
Building a great vehicle is just the first step – maintaining it for optimal performance is what makes a truly enjoyable driving experience. Highly trained service technicians install high-quality genuine Chevrolet parts — original equipment parts specifically designed, made and tested to help you keep your Chevrolet running at peak performance. Plus, clear maintenance schedules and transparent pricing mean you're always in control of decisions that affect your vehicle.